The Lamborghini Huracan Spyder : a supercar with the sublime blend of luxury and sport
Want to rent a Supercar in Monaco ? Among our fleet of prestige sports cars, we put at your disposal the fabulous Lamborghini Huracan Spyder. To make your rental a sensational experience, rent a Lamborghini LP 610 Huracan Spyder.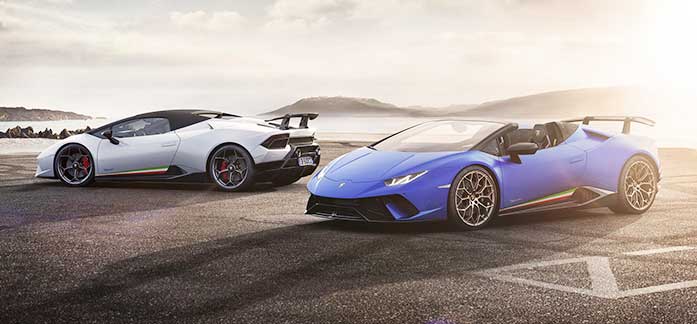 Among the luxury vehicles range of the Italian automaker Lamborghini, the sporty Lamborghini Aventador, the
Lamborghini Centenario
coupe, and the ultra-luxury SUV Lamborghini Urus. This is the
rental Lamborghini Huracan Spyder
in his cabriolet version (Spyder) that has retained our full attention. Unveiled in 2015 at the Geneva Motor Show (Switzerland), the prestigious Lamborghini Huracan Spyder (cabriolet model) sports crisp and taut lines, a true trademark of the Italian car manufacturer. These radical lines are designed to crack the air and tame the road.
The Italian manufacturer Lamborghini has developed several modes such as Strada, Sport and Corsa that allow to modify the intensity of the suspension and active steering.
Its engine is equipped with an atmospheric V10, it propels the Lamborghini Huracan Spyder from 0 to 100 km / h in just 3.2 seconds. Hard not to drive around when you rent a Lamborghini Huracan Spyder supercar.
Let's not forget that the Lamborghini Hucaran Spyder LP 610-4 is the replacement for the Lamborghini Gallardo. While renting Lamborghini LP 610 on the French Riviera, slip into its cockpit inspired by aviation. On board, all the controls are similar to those of a fighter plane. Once the engine of the Lamborghini Huracan Spyder started, you will discover extraordinary emotions.
The Luxury Convertible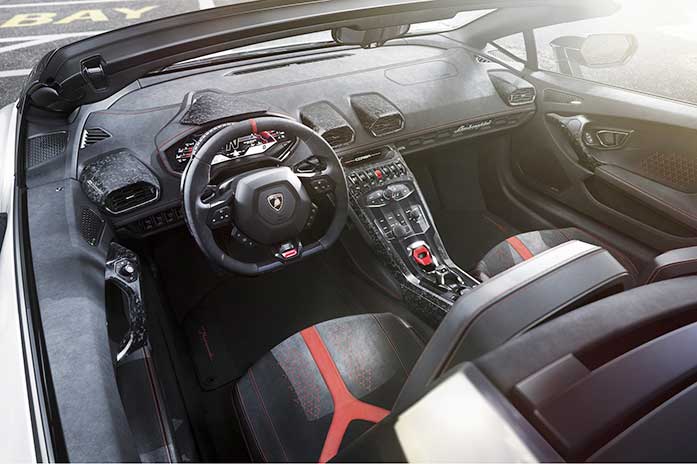 Dare to rent a convertible sports car for your weekend in Monaco, book now your dream supercar, the Lamborghini Huracan Spyder. Only a few days away from the
Monaco F1 Grand Prix
, you will be able to ride the circuit at the wheel of a racing car like a Formula 1 driver. Starting line, Place du Casino, Fairmont turn, you will not miss any strategic point of the Principality . Sports car enthusiast, during your holidays in Cannes, hire a luxury car on the French Riviera and enjoy the pleasure of driving a prestigious supercar, the
Lamborghini LP 610-4 Huracan Spyder
. On the Boulevard de la Croisette, open air in convertible mode, you will listen to each acceleration extraordinary musicality. You love speed and performance? If you want to experience Italian power, renting a luxury car in
Saint-Tropez
is the right decision. The
Lamborghini Huracan Spyder rental Cannes
is for you. This supercar rental will provide you with unforgettable driving sensations. And what's more, you'll arrive in high class for the private parties most coveted by the jet set. Boost your travels, rent a Lamborghini LP 610-4 Huracan Spyder to browse your road trip. Our
MC Luxury Rental
team will take care of the delivery of your rental supercar in Venice, to find you in
Marbella
. During your rental, you will visit your favorite cities such as Milan, Florence, Monaco, Nice, Cannes, Saint-Tropez, Barcelona … Rent a Lamborghini Huracan Spyder one way is the best way to have fun! All your trips will become a sporting moment. Spice up your stay in
Corsica
on the
Isle of Beauty
, choose to hire a
Lamborghini Huracan Spyder
. This racing machine designed to surpass the legends will become your best ally. As impressive as it is radical, it will allow you to tame the mountainous roads between Bastia and Porto-Vecchio or between
Ajaccio
and
Calvi
. Specialized in the field of premium and premium car rental, our company MC Luxury Rental puts at your service a team of professionals. Available, discreet and punctual. Our hotline assists you 24/7. Based in Monte-Carlo, Principality of Monaco for 8 years, our rental company is present in cities like
Courchevel, Marbella, Nice
and
Saint-Tropez
. Our transport logistics allows us to offer our cars for rent in major cities such as Barcelona, ​​Cannes, Florence, Geneva, Lyon, Milan, Paris, Rome .