The Range Rover Evoque cabriolet is one of the stars of SUV cabriolet since its launch at the Geneva Motor Show in its convertible version which makes it the only compact SUV convertible. Our luxury car rental agency based in Monte Carlo (Monaco), MC Luxury Rental has selected for you this 4×4 cabriolet and offers you to rent it in the Principality of Monaco, on the French Riviera, in France and in all Europe. The Range Rover Convertible Cabriolet features a fully electronically convertible triple-layer canvas top up to 50 km / h, all with no visible hoop. This Land Rover has a 9-speed automatic transmission with 4-wheel drive. Inside is the dashboard of other Range Rover Evoque leather upholstery and there is also the 10-inch full touch multimedia central display, the wheel that serves as a control box and the controls specific to all-wheel drive because this Range Rover Convertible Evoque does not give up its adventurer abilities.
The SUV Design
In the back it is possible to travel decently to 4 people with 4 real seats, with a volume of trunk available with 250L to accommodate all your luggage from your arrival at the airport for your journey to your place of residence. Soundproofing is successful even on highway where aerodynamic noise remains reasonable.
Come now rent this first luxury 4×4 cabriolet available in long-term rental or short-term for holidays or important events such as the International Film Festival and the Lions Festival in Cannes, Fashion Week in Paris or Milan, Monte-Carlo Rolex Master, Monaco Yacht Show and Top Marques. This convertible version of the Range Rover Evoque allows it to evolve in style, design and refinement while retaining the benefits of a Land-Rover with incredible crossing capabilities and all the charm that one can already know. This vehicle capable on all terrains can accompany you during your rental, for all the pleasures, in town, at the edge of the sea or at the bottom of a valley through the snow of the French Alps, in the Domaine des Trois 3 Valleys (Courchevel, Méribel, Val Thorens), Val d'Isère, or Méribel and Chamonix in the heart of Mont Blanc.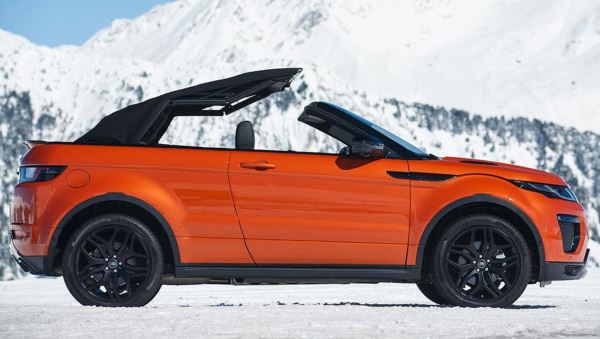 Hire this Land Rover and discover a luxurious car ideal for all seasons and climates. In summer it will be your best ally to join the beaches of Saint-Tropez or Saint-Jean Cap Ferrat hair in the wind. And equipped with "winter" tires, it will brave safely and without a hitch the extreme winter weather (snow, ice, rain …). Winter sports resort or seaside resort you will undoubtedly find the ideal playground for this Land Rover convertible. This luxury SUV, the Range Rover Evoque Cabriolet will be perfect for your summer vacation but also for your winter holidays. Rent this vehicle will be a favorite, you will have a hard time not to fall in love with this unique SUV in the world when you rent.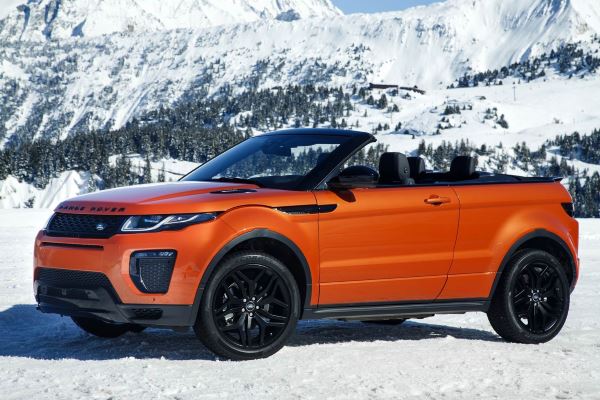 Before the release of the Land Rover Evoque cabriolet, it was necessary to make the 4×4 in a premium open-air car, 3 different cars. Today Land Rover has combined all the necessary assets, and thanks to the rental of this vehicle that knows how to do everything, you can enjoy the driving of a luxury SUV, while discovering the retractable roof. This exclusivity will seduce your quest for difference even if its master card is his inimitable style. Compact and very muscular, the Range Rover Evoque cabriolet is appreciated for its comfort, driving pleasure and a hellish look with incredible purity. You can now rent one of the most fun machines of its kind with a unique, handy and comfortable composition even in the worst weather conditions.
This atypical Land Rover is currently available for rent by the day, the week, the month or even better, for long term rental. Choose the destination of your choice and even choose a car rental one way, with a different place of restitution than the delivery. Our car rental company MC Luxury Rental offers for this vehicle a customized delivery service in France, Monaco and throughout Europe.
In front of your Hotel, in your prestigious Villa, in an international airport at the exit of your plane, in a Heliport at the foot of your helicopter or in any place that suits you best. This SUV cabriolet very trendy vehicle will be noted in all the capitals of Europe (Paris, Rome, Geneva, Barcelona, ​​Berlin, Brussels, Porto), in the big cities trendy (Calvi, Cannes, Florence, Milan, Nice, Porto-Vecchio, Saint-Tropez, Venice), or in the authentic villages (Courchevel, Gordes, Grimaud, Forte dei Marmi, Villefranche-sur-Mer)
Our MC Luxury Rental team offers you to rent in all our agencies (Ajaccio, Cannes, Courchevel, Malaga, Marbella, Monaco, Nice, Paris, Porto-Vecchio, Saint-Tropez). Book your Land Rover Range Rover Evoque convertible now and feel free to come and hire this vehicle from our luxury car rental agencies MC Luxury Rental.