at the famous Villa Ephrussi de Rothschild The hardens of the famous Villa Ephrussi de Rothschild on the peninsula of Saint-Jean Cap-Ferrat will be pleased to welcome this year on 6 and 7 May the Feast of Roses and Plants.
For the occasion, many international exhibitors will be there to present their creations.
The perfumer Grasse, Fragonard will make you discover many fragrances, so the rosierist came from Italy Nino Sanremo and confectionery Florian who announced their return will be present.
Talented painters such as Alexandra Otieva, Franck Picault or Maria Pia Luly Jones will exhibit their most beautiful paintings.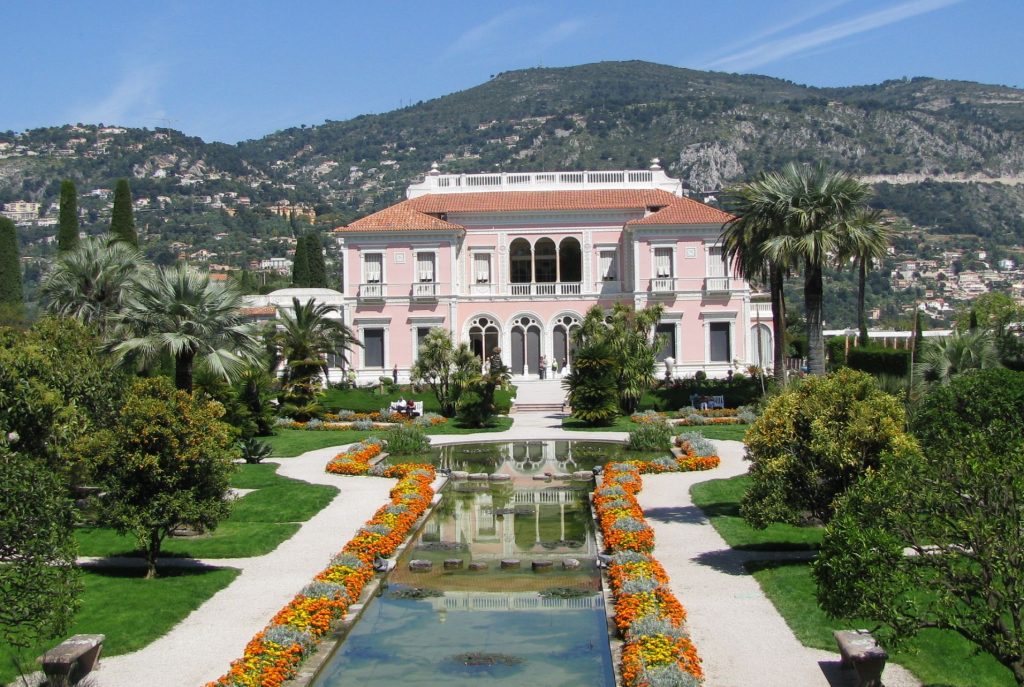 You can contemplate all kinds of flowers and plants, from the most classic to the most exotic, listen to botanical lectures, admire many paintings, discover many senators … Rosierists, nurserymen and professionals from the garden world will be there to help you discover their talents.
You are invited to walk between basins and climbing roses, to follow botanical guided tours … The whole family is invited, activities will seduce children as well as the biggest.
The 9 gardens surrounding this majestic Palais de la Côte d'Azur are among the most beautiful gardens in the Mediterranean, so do not miss them! Moreover you will discover an exceptional panorama.
The elegant property features a Tea Room overlooking the magnificent Villefranche-sur-Mer. Or you can see our new agency :
Rental Car Company located 1330 boulevard Napoléon III 06230 Villefranche sur mer.
You will be able to settle there to contemplate this magnificent view overlooking the Mediterranean Sea and enjoy a gourmet break.
 If you have been conquered by this unexpected place, you will have the honor of being able to organize a cocktail, a reception, a gala dinner or a wedding in this cultural and sumptuous place on this occasion you can add some fun and rent Ferrari or even rent lamborghini once your choice makes you ready for a drive experience.
 To get to this event we have stylish vehicles that will make a good impression, such as a hire Bentley GTC or rent Mercedes C-Class Cabriolet that will allow you to enjoy the spring sunshine.
If you prefer to leave your driver, why not try the Rolls Royce Wraith or the Mercedes S-Class limousine? They will offer you all the comfort and the expected image. Do you prefer to ride a luxurious sedan yourself? Opt for a Porsche Panamera or a BMW 7 Series limo.
You participate in the event as a couple and you like the exceptional sensations?
Rent a Ferrari 488 GTB Spider or a Porsche 911 Carrera 4 S convertible! Want to stay discreet? Opt rental car Audi TT coupe or a BMW 4 Series coupé.
Accustomed to imposing 4×4 and SUV? Hire a beautiful Range Rover Sport or hire range rover Vogue model, or turn to a Mercedes GL!
We invite you to consult the section "Luxury cars" to consult all the available vehicles as well as the rates and deposits applied.
 Professionals of the rental of high-end and prestige vehicles on Monaco, we offer the best to our customers.
We offer tailor-made services to better serve you. We deliver the vehicles to the place of your choice.
 Your plane arrives at Terminal 2 of the airport of Nice Provence-Alpes-Cote d'Azur? Our team will be on hand to give you the car of your dreams. You prefer to be comfortably installed before taking a seat at the wheel of a Supercar? We will deliver the car in front of your hotel, whether it is in Cannes or Eze-sur-Mer.
Are you staying in your villa in Saint-Tropez? We will deliver the vehicle within your property. As many possibilities as desires …