Luxury cars. Premium service. Unique experience
Like every year, MC Luxury Rental agency offers prestigious cars for rent. At your disposal, a large choice of electric and thermal vehicles: sedan, convertible, sports car, SUV. Our rentals can be done by day, week or even month.
For supercars, we offer you to rent the Ferrari F8 Spider in Monaco or the Lamborghini Huracan Spider in Saint Tropez. For a sporty but more discreet car model, opt for a Porsche 992 GTS cabriolet rental in Cannes. You want to rent an SUV in France or in Europe for your summer trip? MC Luxury Rental offers a large fleet of vehicles such as the BMW X5, Mercedes GLS, Range Rover Sport. Or the iconic Mercedes-Benz G63 Class or Land Rover Defender. Need a large 7-seater SUV? A luxury family car? We can provide you with a Mercedes GLS, a BMW X7 or a Bentley Bentayga.
And if you dream hire a Supercar but need a spacious vehicle such as an SUV, rent a Lamborghini Urus S in Paris. This new Lamborghini combines the soul of a supersports car with the practicality of an SUV. Driving it will be a real pleasure. Exclusive cars are also part of our car rental range. Thanks to our services, you will be able to enjoy a Mercedes Benz GLS Maybach 600 or a Rolls Royce Phantom 8 in Paris.  Which car to rent in Portofino in our agency? A Mini Cooper S convertible will be ideal for strutting your stuff on the Mediterranean. If you prefer a more spacious convertible car, opt to rent a Mercedes E-Class convertible in Marbella. If your choice is a 4-door luxury car, ideal for a road trip in Europe, our fleet will allow you to rent a Mercedes-Benz E-Class, or a Porsche Taycan.
Do you want to discover, while combining ecology and pleasure, the driving of an electric car in Europe? Discover our offer and rent a Tesla Model 3 in Marseille or a Tesla Model Y in Bordeaux has never been so easy.  For your rental car trip across Europe, don't miss out on space in a premium Mercedes-Benz V-Class van, which offers spacious luggage space and seating for 8. Ideal for a one-way rental at Cannes Mandelieu airport. In the country of your choice, in France, Monaco, Italy or Spain, whatever your destination: Barcelona, Cannes, Monaco, Milan, Zurich, our team is there to assist you in your premium car rental.
Book your rental car now and choose from a wide range of Audi, Bentley, BMW, Ferrari, Mercedes-Benz, Land Rover or Rolls Royce models.Driving has always been a pleasure, MC Luxury Rental always suggests the right vehicle for the right situation. With family or friends, on vacation or on a business trip… If needed, we can provide you with all types of child car seats (baby seats, booster seats…)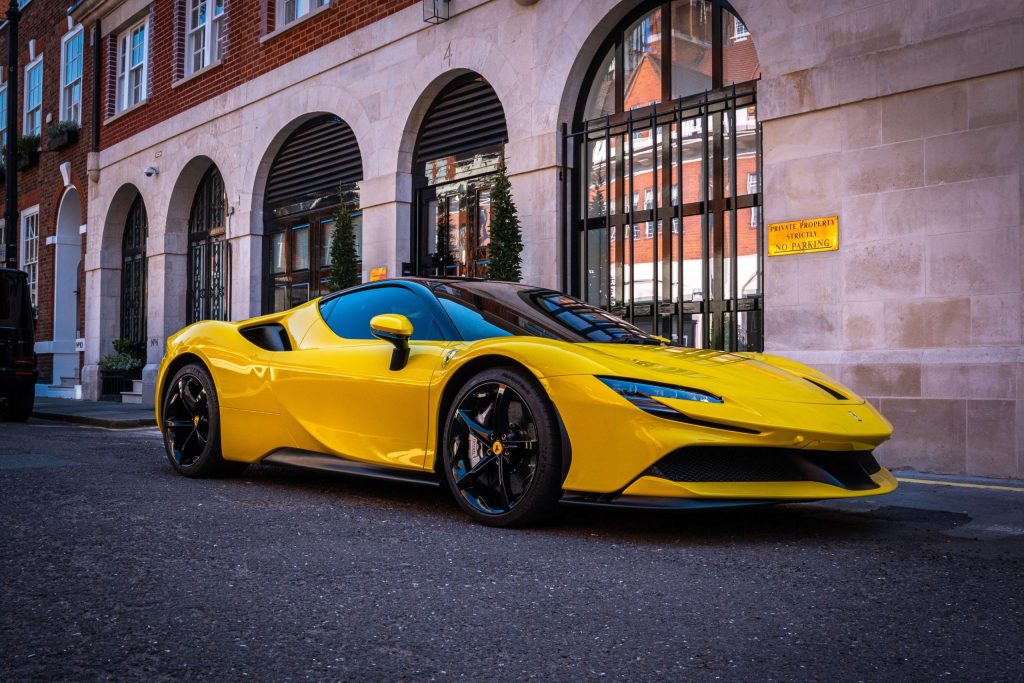 One way rental all over Europe
Don't waste any more time at the counter of a rental agency, experience MC Luxury Rental and benefit from a Meet & Greet at Nice Cote d'Azur airport or Milan Malpensa airport, choose the premium one-way rental and return your rental SUV at Paris Roissy Charles de Gaulle airport. Choose different locations for the pick-up and drop-off of your rental car. Our personalized services allow you to tailor-make your vacation anywhere in Europe. At any time and anywhere, our prestigious car rental agency is at your disposal.  If you are passing through Monaco, rent the Rolls Royce Cullinan as soon as you arrive at Nice Cote d'Azur Airport to drive through the streets of Monte Carlo and the French Riviera. If you're more of a convertible, opt for the Bentley GLC.
Book a Mercedes car rental in Frankfurt, opt for the personalized delivery at Frankfurt Airport. Our driver will take care to welcome you as soon as you land in Germany. Rent a Land Rover luxury car in Cannes and get a free delivery to your private villa in Mougins. The return of the Range Rover Sport can easily be done in a different city such as Milan in Italy. Hire a sporty car such as the Lamborghini Huracan Spyder or the Ferrari Roma during your weekend in Italy at Lake Como. For the rental of a Ferrari F8 Spider in Barcelona, choose the delivery at the international airport of Barcelona El-Prat and we organize the return of your rented supercar directly to your 5* hotel.
Contact us to rent a prestigious car in Corsica and pick up your Porsche rental car at the airport of Ajaccio or Bastia and return it to the airport of Figari. Take advantage of our offer, and opt for a customized delivery, in an airport, in a heliport… You can still change your mind! Change for free the address of the place of departure and return of the vehicle in the same city.
Do not hesitate to click on the contact form to discover our premium service offers. We also offer a long-term rental service (LLD), reserved for private individuals residing in Monaco and for Monegasque entities. MC Luxury Rental always offers a tailor-made service, with competitive rates on the car rental market.