On board the Mercedes Benz G 63 AMG class, you will enjoy your prestige SUV rental in a dominant position and are received in conditions that can not be more exclusive in every metropolis. You drive in an off-road character whose aura remains unmatched.
This high-end SUV comes to a standstill. Her imposing stature projects a shadow in front of her. Its angular lines have a power of attraction superior to any architectural work, as impressive as it is. A power comparable to that of a magnet that attracts everything to him and takes everything with him. Renting a car like the Mercedes-AMG G63 at MC Luxury Rental will be a real pleasure.
The inter se. This is the definition that could be given of an exclusive place like Monaco, Principality of Monaco. Around you, only selected materials, crafted by craftsmen, for a maximum level of comfort when renting a luxury car. And when you get your hands on the "AMG" crest of the selector lever, exclusivity meets high performance.
Available in our premium car rental agency, this imposing silhouette does not deceive. Or could you find better shelter than on the G-Class? Especially since Mercedes-Benz Intelligent Drive puts its innovative driver assistance and safety systems at your service.
The power deployed by the Mercedes-AMG G63 is impressive. Only the 7G-TRONIC SPEEDSHIFT PLUS AMG gearbox with steering wheel paddles makes it possible to tame and exploit this force to move forward. The sound of this fireworks power is orchestrated by the AMG sports exhaust line and its two double chrome outlets. This vehicle is essential for your weekend in a winter sports resort like Courchevel, Meribel or Corrine D'Ampezzo in Italy.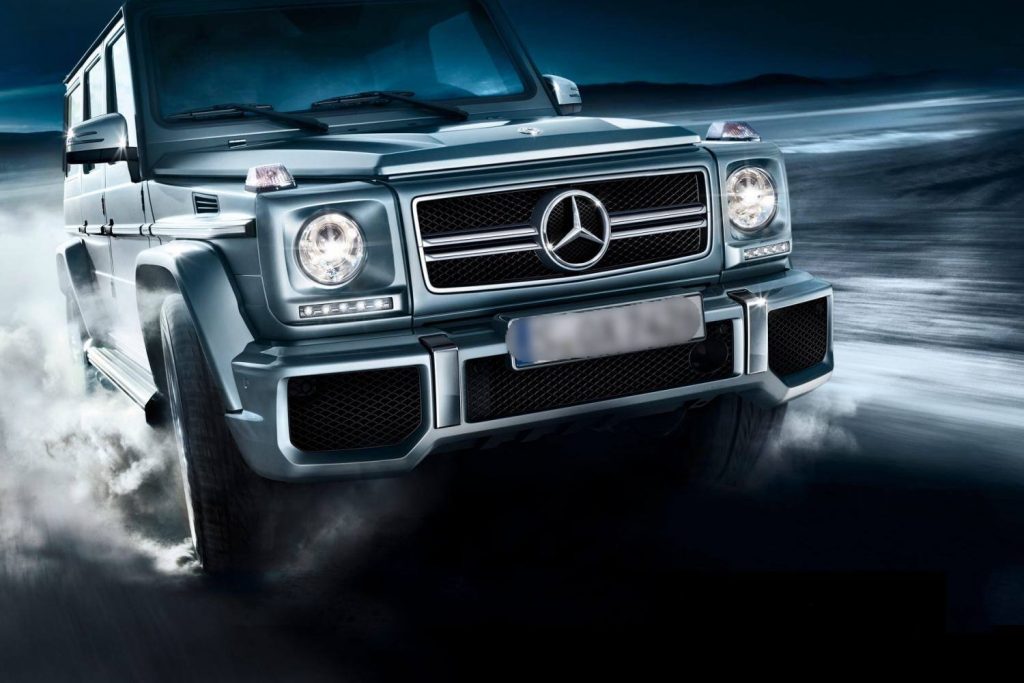 Welcome to the end of the world, where the adventure can finally begin for the G-Class. Here, there is no need for paved roads or traffic lights. At the top of the highest mountains of the Alps, in France or in Switzerland. Here, you have to be tough. Steadfast. And have a calm mind. This place is too far? This place, certainly, but not that feeling. Rent a 4×4 Mercedes G-Class will be the best way to have fun during your week in a ski resort.
An abyssal abyss opens a few inches from the track – the perfect opportunity to test the practical qualities of the grip. And enjoy the panoramic view of the Three Valleys. Sitting on seats that will demonstrate all their qualities during the descent of Gstaad to reach the Bern airport. That's our definition of ultimate comfort aboard the G-Class.
The G-Class is always on its way. Whatever is your chosen destination for your holidays. Enjoy the luxury car rental MB G Class special edition 463 at MC Luxury Rental. Hire Mercedes Benz G 63 AMG. His favorite terrain begins where others give up. Thanks to the extremely high installation of the air intake for the engine and the electronics as well as the perfectly tight joints of the cabin, it progresses in 60 cm3 of water.
The G-Class defies the mountains. It can indeed cross a difference in height of 100 meters over a distance of 100 meters over a distance of 100 meters only, ie a rating of 100%. The short range of series is also the most efficient: in << neutral >> position. Simply press the "Low-Range" switch to optimize the torque transmission. Difficult to disconcert the G-Class. Its complicity, its ground clearance and its strong ratings are legendary. Come quickly rent your G63 AMG class in St Moritz in the Swiss ski resort.
The entire team of our prestigious car rental company is available to satisfy you every day of the week 24/24. Delivery and drop off your rental car at the location of your choice. Rent a luxury car at Nice Côte d'Azur Airport, Monaco Heliport, Port Canto in Cannes, Hotel in Chamonix, chalet in Verbier …