The BMW 7 Series embodies perfection, in its most modern and harmonious form: the impressive bow, with its wide vertical grille, imposing spirit and dynamism. The fluid lines of the body give it an incorporeal elegance, while the stern is a true demonstration of self-confidence. Luxury is on board the new BMW 7 Series sedan. Check out this high-end car in our car rental agency.
Specialists in premium car rental in Monaco for 7 years now, we suggest renting a BMW 7 Series.
Never seen in terms of innovation. For the first time, BMW's lightweight Carbon Core construction concept has been implemented in the BMW 7 Series. In this new dimension of construction, carbon fibers are used in targeted manner in the vehicle body. This intelligent hybrid construction mode reduces weight and consumption while increasing stability and thus also driving comfort and dynamics. The BMW 7 Series promises a brand new light-weight driving experience that is second to none in this category. Ideal for your winter season, it will be your best ally to travel to Courchevel, Méribel / BrideslesBains or Gstaad in Switzerland.
The driving technologies of the BMW 7 Series are the epitome of modern mobility, which is why the BMW 7 Series is also available with BMW Iperformance. Thanks to BMW Iperformance technology, the BMW 7 Series offers an extremely efficient and dynamic interaction between petrol and electric engines. Its consumption is limited to 2.1-2.5 liters per 100 km, while CO2 emissions peak at 49-56g / km.
During your long trips with your rental car, you will not have to worry about finding a gas station in the French or Swiss Alps.
The Executive Lounge configuration allows you to relax when traveling as a passenger.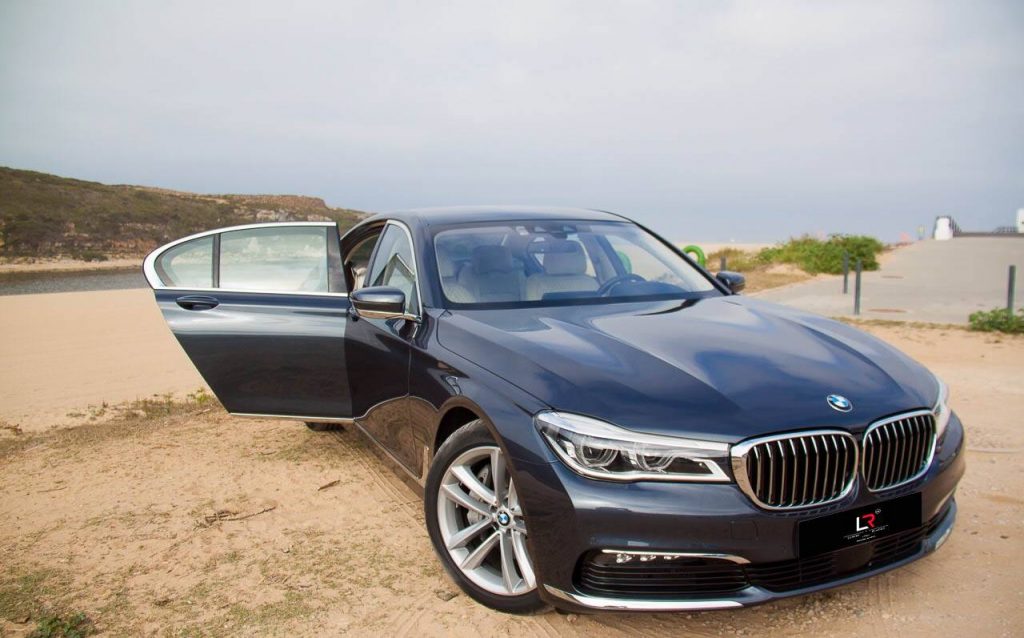 Rent a BMW 7 Series
For the whole family to enjoy the best of this vehicle, do not hesitate to leave the steering wheel to your driver. So you can enjoy this feature that provides exceptional seating comfort: the right rear seat is adjustable on several levels and has a retractable footrest, you are free to adopt the position that suits you best. At the push of a button the seat in front of you tilts forward and its headrest folds down to provide you with all-round visibility. Unique in addition to an exceptional space, experience exceptional comfort aboard the new BMW 7 Series when you travel from Lyon, Grenoble, Annecy and Geneva airports to the Paris Sports Station. winter such as Courchevel, Megève, Val d'Isère or Tignes.
Onboard the BMW 7 Series, relaxation is always a must: you can choose to relax in seats upholstered in premium leather or work in an exclusive atmosphere. The BMW touch control system gives you easy access, even from the rear, to a multitude of functions and settings related to comfort. And if you want to enjoy the trip in the most perfect serenity, the panoramic glass roof with its some 15,000 light patterns immerses you in an exceptional atmosphere, as bathed by the soft light of a starry sky. Rent a BMW 7 Series at MC Luxury Rental.
Progress in motion: an integral part of the BMW global ergonomics concept, BMW gesture control recognizes predefined hand gestures that allow you to adjust the sound volume by rotating the index finger. In addition, the BMW control screen has a touch function and can also be controlled by voice control. You can interact in a completely natural, free and intuitive way with your vehicle via assistance with offline speech processing. Whether you want to access navigation or telephony, your desires are orders. You benefit from a maximum level of comfort and safety when traveling to the Courchevel 1850 ski resort.
Maximum safety also, thanks to the BMW laser projectors with anti-glare high beam assist: precise and intelligent clear, they are at the forefront of technology and light up to 600 meters upstream. That's twice as far as conventional LED floodlights. Perfect for crisscrossing the roads leading to Megeve, at the foot of Mont Blanc.
Rent the BMW 7 Series and its innovations will not leave you unmoved.
Do not wait any longer to book your rental car. Our entire team is mobilized to meet your requirements. To you freedom. One of our delivery driver will take care of delivery of the luxury vehicle to the place of your choice, in an airport, at the ski slopes, in front of your chalet or in front of your hotel 5 or 6 stars. Whether you prefer to reach your winter sports resort by helicopter or with your high-end sedan, MC Luxury Rental offers its tailor-made services. For the winter season and for your safety, our vehicles are equipped with snow tires.