Gracious, elegant, spacious, sporty, and coveted.
So many adjectives that would make anyone jealous. The Maybach S500 4Matic is the vehicle we find to have the most notches on its bow.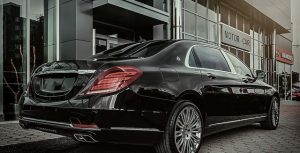 The Maybach S500 4 Matic can easily surpass any other 4×4 like a Range Rover or a Mercedes GL thanks to its 4 Matic drive that will enable you to reach any summit you need to on your way through the European mountains to the slopes. The Maybach S500 4 Matic will be able to easily and comfortably accompany you through your holidays in France or Europe. Equipped with a next generation multimedia platform, you can be sure children and parents alike will find their hearts desire. The Maybach S500 4 Matic will perfectly showcase your social stature. Perfect for a business dinner in Paris, or a family meal at la Plagne. Its sobriety and its notoriety will make you feel at ease whatever the circumstances may be. Thanks to its Magic Control option, you can drive around in perfect safety on the sinewy Megève, Courchevel or Meribel roads. Don't hesitate to let your chauffeur take the wheel so as to relax in the Pullman backseat and watch your favorite movies on the TV screens with the chairs massage function on, or listening to music on the Burnmester sound system. The chauffeur will also be very happy with the 360° camera, the leather and heated wood steering wheel, the danger alert system, the dead-angle detectors…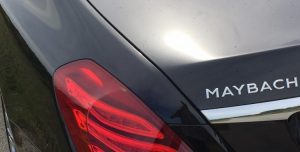 The Maybach S500 4 Matic has been at the "salon de Geneve" to be shown off in 2015 and is the dignified successor to its older sister, the Maybach 62s that we also have included in our available vehicles. As we all know the Maybach 62s is well known for its perfect trim and its luxurious allure. Carbon fiber finish, electric curtains, separation with the chauffeur, interphone, heating and ventilated massage seats, refrigerator, silver champagne flutes, TV screens, Bose speakers, variable luminosity sunroof, it offers similar comfort to a Rolls-Royce Phantom or a Bentley Mulsane.
Whether you prefer the mythical Maybach 62s or the newer Maybach S500 4 Matic, we will be happy to deliver the model of your choice to a place of your choosing. Whether its in Monaco, Saint Tropez, Paris or the French or Swiss Alps.