The new Mercedes Benz E-Class cabriolet passes a class above the old model. And this is good because it is soon summer on the Côte d'Azur. The perfect time to rent the latest cabriolet in vogue at MC Luxury Rental.
The design of this four-seater convertible remains true to the star brand, fluid and harmonious lines, chrome grille, double exhaust … The German manufacturer has bet on the elegance of the latter Mercedes E Class Cabriolet.
In the cockpit, you will find an atmosphere close to perfection thanks to luxurious materials.
Want to take the road aboard a masterpiece of intelligence? Book a Mercedes E Class Cabriolet now at MC Luxury Rental. Refined, stable and quiet, this rental car has all the essential assets for your transport.
Take advantage of our "one-way" car rentals and exclusive service in Monaco and throughout Europe (France, Italy, Spain, etc.). Do not delay booking your Mercedes Benz E-Class cabriolet, discover the pleasure of driving.
Family holiday in the South of France, in Nice? Hire the Mercedes E-Class cabriolet with AMG packet, this rental car will be perfect for all your courses. Drivers and passengers will be delighted to travel in a convertible car that is as comfortable, harmonious as it is dynamic. Your trips to Monaco, Cannes or Saint Tropez will be synonymous with "dolce Vita". The Mercedes Benz E-Class cabriolet will become your sidekick for your journeys.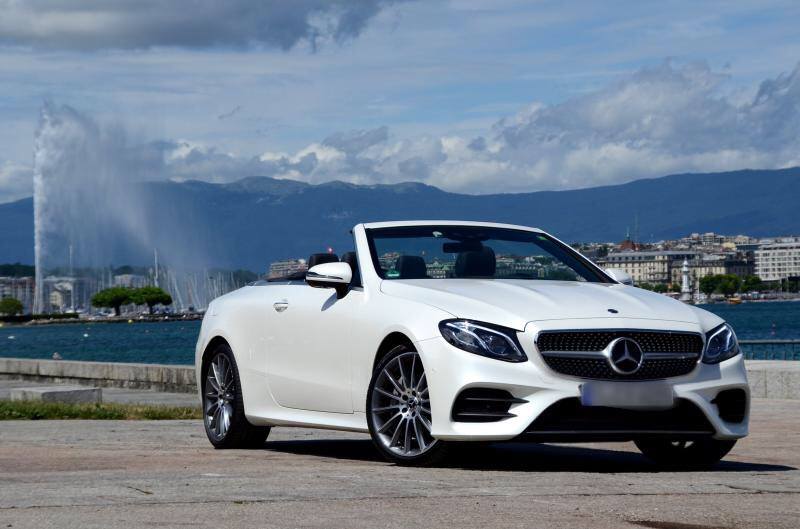 Rent a Mercedes E-Class cabriolet
During your business trips, between two business meetings, leave room for relaxation. Rent a Mercedes E-Class cabriolet in Cannes. Elegant and discreet, it will be the perfect luxury car to visit your customers at the Lions Cannes 2018 Festival (International Festival of Creativity), 
from June 18
 to 22. The Mercedes Benz E Class convertible will also be the preferred rental vehicle to go to the Palais des Festivals during the Cannes International Film Festival.
Take a break and enjoy a moment of idleness in Corsica. Treat yourself to a truce and hire a Mercedes Benz E-Class cabriolet in Porticcio. To discover idyllic landscapes, there's nothing like traveling the Corsican roads at the wheel of a Mercedes Benz E-Class cabriolet. From Porto Vecchio to Calvi, by the coastal road, you will admire the wonders of the Island of Beauty between Mediterranean Sea and mountains. Our rental company MC Luxury Rental, based in Monaco ensures the delivery of your car to Figari, Bastia or Ajaccio airport.
Opt for more sustained driving of the Mercedes E-Class cabriolet AMG packet. Efficient on a generous pace, you ride the open mountain passes. Do not hesitate to take the road to the Grande Corniche to go from Nice Côte d'Azur airport to Monaco, Monte-Carlo. Hair in the wind you enjoy a panoramic view of St Jean Cap-Ferrat and Villefranche sur Mer. Upon arrival in the Principality of Monaco, you master perfectly this luxury car rental.
Would you like a rental car to travel in peace during your stay in the authentic village of Gordes? Rent a Mercedes Benz E Class convertible, our drivers take care of delivering the luxury car to the place of your choice. You want to have the vehicle until the end of your Road Trip? Choose a one-way Mercedes Benz cabriolet rental. For example, take possession of the rental vehicle at Marseille Marignane airport and our chauffeur MC Luxury Rental will visit the hotel of your choice in Forte dei Marmi for the return of the Mercedes Benz E-Class.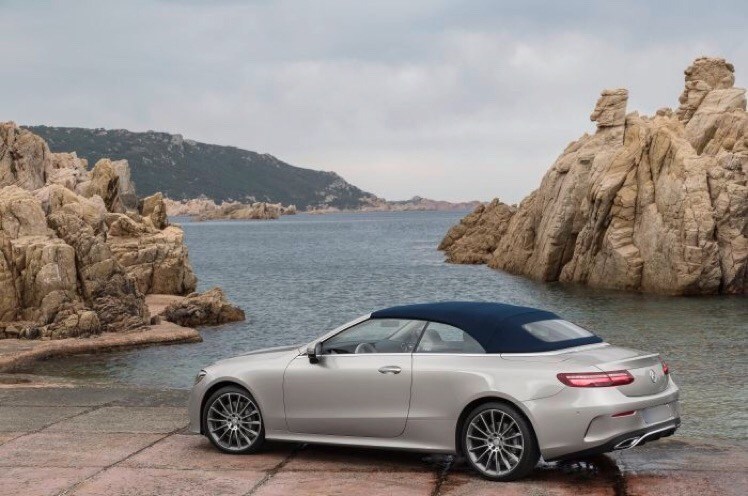 You can also rent a Mercedes-Benz E-Class Cabriolet simply to avoid paying a discouraging ecological penalty, to waste time parking your vehicle while traveling abroad, or to find car insurance. Our premium vehicle rental company offers long-term rental services (LLD). For more information about the long-term rental of a Mercedes Benz E-Class cabriolet, please see our "Long-Term Rental" page in the "Services" tab.
Our Mercedes Benz E-Class rental offers a reinforcement of their personality thanks to an AMG sports package with high-end finishes, 20 wheels, heated and ventilated electric leather seats, Live Traffic Information …
Different driving modes allow you to adapt to the situation. These different driving styles demonstrate a real driving force. A comfort mode ensures driving pleasure of unequaled flexibility. Sport mode gives you more driving, while Sport + mode completely transforms the vehicle. The steering hardens and the engine turbo gets brighter.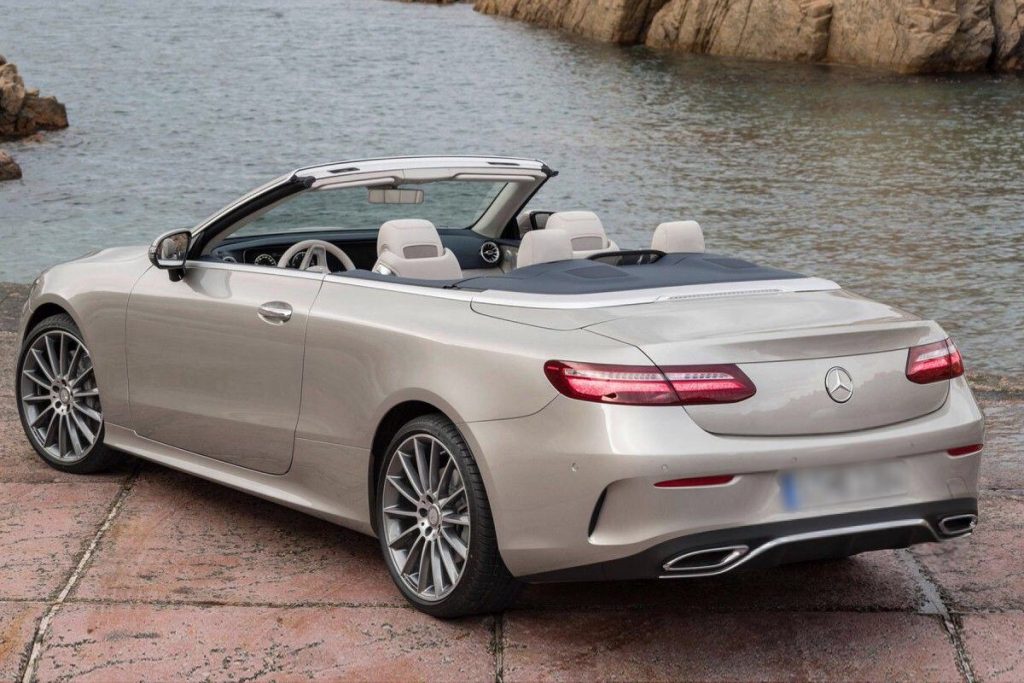 Our Mercedes-Benz E-Class benefits from the equipment and options necessary for your comfort and your safety: automatic gearbox, GPS navigation with 12.3 'screen, Burmester audio, neck warmer, blind spot sensors, 360 ° camera, semi-autonomous driving assistant.
 In our fleet of Mercedes Benz E-Class cars, you will also find the sedan, the break, the all road and the coupe.