Want to rent the new Mercedes Benz C-Class cabriolet pack AMG do not wait anymore :
With its stretched lines, its diamond grille and its muscular surfaces, the Convertible C-Class is a breathtaking style that only the driving experience can surpass: options such as 4matic all-wheel drive or airmatic air suspension offer dynamism of the first order. Our car rental company has therefore selected this model to add it to our fleet of high-end cars. Among its competitors, we also offer other models such as the rental of a BMW 4 Series convertible or even rent Mercedes Benz E-Class cabriolet and finally rent Audi A5 convertible ….
But the Mercedes C-Class convertible will definitely remain your favorite. Do not wait to make your Mercedes Classe C booking in Saint Tropez. Standing and design are waiting for you. Open the three-ply, fully automatic fabric cover that opens in only 20 seconds and up to 50km / h and succumb to the joys of driving under the sun on the Côte d'Azur. You can take full advantage of your weekend in Monte Carlo, Principality of Monaco where you can rent Mercedes Classe C cabriolet. It will also be perfect to go to a business dinner in Nice with your collaborators.
Unique equipment in this category such as the aircap automatic windscreen or the aircraf neck heater reminds us one thing: it is no coincidence that the word cabriolet begins with the letter C. The AMG Cabriolet C class imposes from the first glance thanks to its grille grille diamant, exclusive symbol of the pleasure of driving. You will be seduced by this gem for your holidays in Nice.
On the engine hood, lines with marked design converge in only one direction: the front. To the generously dimensioned air intakes, high performance LED spotlights that give the Convertible Class C a guaranteed pace with these 4m49 long is 4 real places inside its profile speaks for itself. So opt for the rental of a vehicle such as a Mercedes Benz C-Class.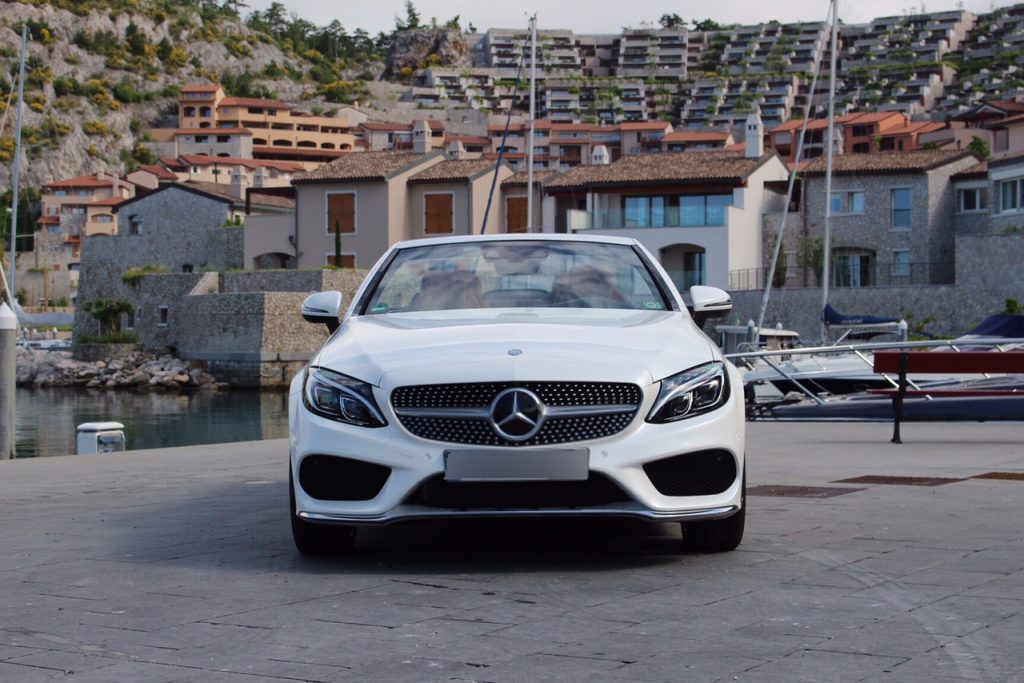 This prestige car is available in our rental company MC Luxury Rental in Coupé, Cabriolet or Sedan. As you wish. To offer or have fun.
The cockpit is a true invitation to freedom. Full-featured sports seats, a very low seating position and the pleasure of rolling in open skies multiply the intensity of emotions every kilometer. You will take full advantage of your luxury car rental in Cannes. The cabin is enhanced by high-end equipment options such as sun-reflective leather seats, surround sound brumasser system and mercedes connect services that connect the vehicle to the digital world.
The summer is with you, whatever the season in Nice rent Mercedes Classe C43 AMG. The automatic windscreen and the neck heating are ultra-sophisticated features guarantee a limited pleasure to open skies, by almost all times. Clouds can be seen on the horizon of Cannes? No problem. The automatic fabric top opens and closes at a speed of 50km / h.
The way is free, rent a premium car at MC Luxury Rental and discover a powerful engine propels you sovereignly. The next turn of the Circuit of the F1 Grand Prix of Monaco is already in the sights. The MB Class C63 convertible does not hide. It remains extremely stable and faithfully follows the trajectory you impose on it. It offers exemplary traction and demonstrates sovereign behavior even on difficult roads. Nothing can impede this dynamic thanks to the most advanced drive and chassis systems in the automotive market: 4matic all-wheel drive, air suspension and driving programs form a unique technological package in this category. It will be ideal for your getaway on the French Riviera to stroll from Monte Carlo to Saint Tropez via Nice and Cannes.
Perfectly harmonized materials and colors express the quintessence of sportiness and refinement. Sports car compels, the cockpit of this luxury car is designed around the driver. The door panels blend harmoniously and without transition in the rear side trim, which highlights the sporty character of the car. Come quickly rent Mercedes Benz C-Class Convertible at MC Luxury Rental! No need to move to the rental agency, our delivery driver comes to you with the vehicle. Delivery of your top-of-the-range car hire in Monaco, France and all over Europe (Italy, Spain, Switzerland)