The Porsche Panamera is the most prestigious and sumptuous sedan the German brand makes !
The Porsche Panamera is the newest car the brand has produced. Its entirely new racy aerodynamic and harmonious design is build of its previous version. This model is elegant, simple and highly performing. It will surely get a gasp at any business meeting of special occasion.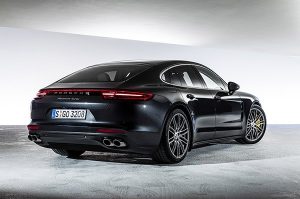 Despite its sobriety, its V8 Bi-Turbo motor will not go unnoticed. It easily get up to speed, going from 0 to 100 km/h in only 4.3 seconds. Agile and stealthy, it will make any driving aficionado happy.
This elegant sedan has many different version such as the essence 4S, 4S diesel, Turbo and Turbo S, which should enable you to find the driving style that you enjoy, whether it is sporty or more relaxed. Thanks to its new technology, you will find all the comfort you desire, whether you're driving or letting a chauffeur drive you. its performances are worthy of a first class vehicle.
You'll find it roomy in the front and in the back seat, so you may be comfortable whatever you're doing. its finishing touches are sharper, a lot of the controls are touch activated. Its semi-autonomous mode in traffic will enable you to be safe and relaxed even when not paying attention. It is an excellent car not to be missed. Be ready to discover the German brands new baby thanks to MC Luxury Rental !
Heading to a special event like a marriage? Our team can decorate the vehicle to your tastes so that you just need to sit down comfortable inside it. All you need to do is choose where you want it delivered: to the croisette in Cannes near the Palais des Festivals, as if you were a movie star? Maybe to the Piazza Del Duomo in Milan as if it were Fashion Week? Or we can stay sober and classy, have it delivered to the magnificent Place du Café de Paris in Monaco, a mythical place in the principality, that every dreams of visiting.
Thanks to its 4 wheel drive, the Porsche Panamera will have no trouble taking you to your destination, whether it is the foot of the Mont Blanc or to the famous Davos ski station, the Porsche Panamera is sure to be indispensible.
It will become your ideal travel companion for a long romantic trip to Florence, or a friendly holiday in Marbella Spain.
So pay attention, and don't take your eyes of the road ! Bon voyage everyone